}
Nutri Advanced MegaMag Fem Balance
Regular price
Sale price
€47.76
Unit price
per
Sale
Sold out
A high-strength magnesium blend that supports hormone balance and reproductive health in women. Our MegaMag® Fem Balance is a unique combination of The unique blend of magnesium, myo-inositol, B vitamins supports hormonal health, fertility, energy production and the nervous system. Myo-inositol has been studied for its to efficacy in regulate female hormones and is particularly effective for managing PCOS (polycystic ovarian syndrome)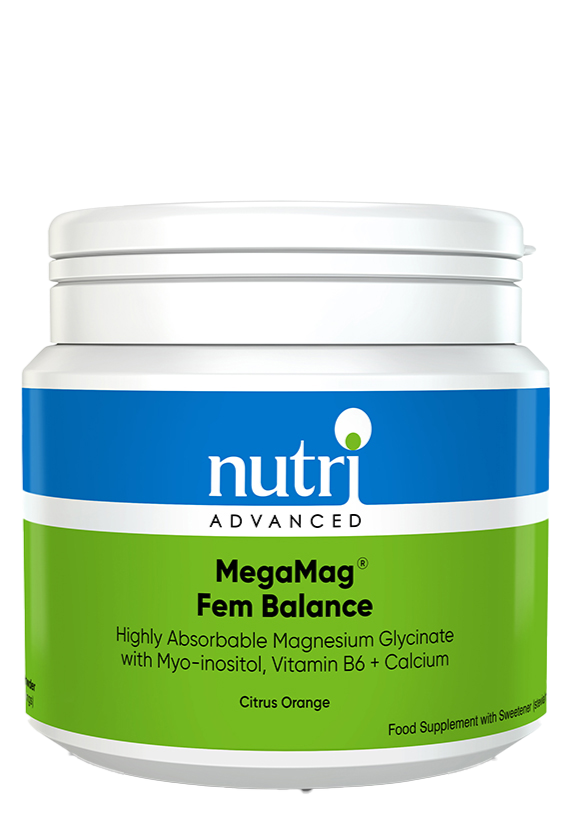 A high-strength magnesium blend that supports hormone balance and reproductive health in women. Our MegaMag® Fem Balance is a unique combination of The unique blend of magnesium, myo-inositol, B vitamins supports hormonal health, fertility, energy production and the nervous system. Myo-inositol has been studied for its to efficacy in regulate female hormones and is particularly effective for managing PCOS (polycystic ovarian syndrome)
2 scoops (10.2g) typically provide:
 
% NRV* 
Magnesium (bisglycinate)
200mg
 53
Myo-inositol
2000mg 
  ✝
Calcium (bisglycinate)
50mg
 6
Manganese (citrate)
1mg
 50
Vitamin E (alpha tocopherol) (100iu)
67mg
 558
Vitamin B1 (thiamin HCl)
25mg
 2273
Vitamin B2 (riboflavin)
20mg
 1429
Vitamin B3 (niacinamide)
20mg
 125
Vitamin B5 (calcium pantothenate)   
20mg
 333
Vitamin B6 (pyridoxal-5-phosphate)
25mg
 1786
Folate (Metafolin®)
100µg
 50
Vitamin C
500mg 
 625
as mineral ascorbates:
 
 
   calcium ascorbate
 
   sodium ascorbate
 
   magnesium ascorbate
 
   potassium ascorbate
 
* NRV is the Nutrient Reference Value
✝ NRV not yet established
Other ingredients:
Maltodextrin
Maltitol
Guar gum
Steviol glycosides
Citrus flavour
Orange flavour
Citric acid

200mg magnesium glycinate, which has superior absorption compared to cheaper forms of magnesium.
Gentle on the stomach, unlike magnesium citrate or oxide.
Powdered formula which allows therapeutic amounts of ingredients, which are difficult to achieve in tablet or capsule form.
2000mg of myo-inositol which supports hormonal balance
Active forms of folic acid and vitamin B6 which bypasses the need for your body to convert into usable forms.
Refreshing orange flavour
2 scoops to be taken daily (Stir in 100-250ml water)
If pregnant, breastfeeding, taking any kind of medication or have a medical condition, consult a healthcare practitioner before using this product.