}
Nutri Advanced Pregnancy Multi Essential
Regular price
Sale price
€28.25
Unit price
per
Sale
Sold out
This high-strength multivitamin has been formulated with the optimal forms of nutrients to support pre-conception, pregnancy and breastfeeding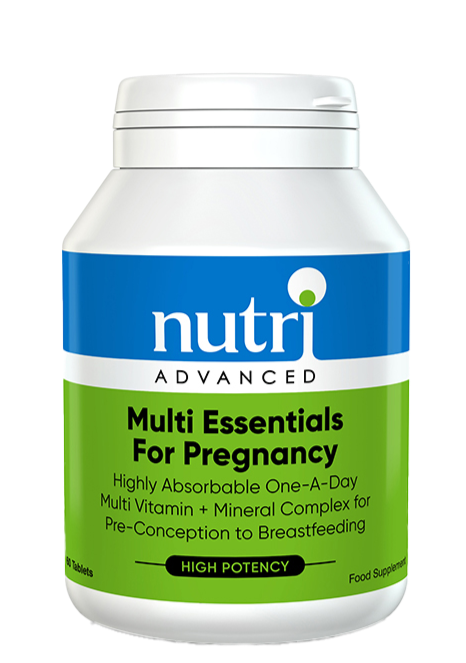 This high-strength multivitamin has been formulated with the optimal forms of nutrients to support pre-conception, pregnancy and breastfeeding
| | | |
| --- | --- | --- |
| Each tablet typically contains |   |  % NRV** |
| Vitamin A (beta-carotene) (2500IU) | 250µg RE* |  31 |
| Vitamin C (ascorbic acid) | 200mg |  250 |
| Calcium (citrate) | 100mg |  12.5 |
| Vitamin D3 (cholecalciferol) (1000IU) | 25µg |  500 |
| Vitamin E (18iu) | 12mg α-TE | 100 |
| Mixed Tocopherols | 3.6mg |  ✝ |
| Vitamin B1 (thiamine mononitrate) | 30mg |  2727 |
| Vitamin B2 (riboflavin) | 25mg |  1786 |
| Vitamin B3 (nicotinamide) | 25mg |  156 |
| Vitamin B6 (pyridoxal-5-phosphate) | 15mg |  1071 |
| Folate (5-methyl tetrahydrofolate) | 400µg | 200 |
| Vitamin B12 (methylcobalamin) | 400µg |  16000 |
| Biotin | 50µg |  100 |
| Pantothenic acid (calcium pantothenate)     | 25mg |  417 |
| Iodine (from potassium iodide) | 290µg |  193 |
| Magnesium (citrate) | 50mg |  13 |
| Zinc (citrate) | 25mg |  250 |
| Selenium (selenomethionine) | 100µg |  182 |
| Copper (sulphate) | 6µg |  0.6 |
| Iron (bisglycinate) | 18mg |  129 |
| Manganese (citrate) | 18µg |  0.9 |
| Chromium (picolinate) | 50µg |  125 |
| Molybdenum (sodium molybdate) | 100µg |  200 |
| Choline (bitartrate) | 20mg |  ✝ |
| Potassium (citrate) | 10mg |  0.5 |
| Vitamin K2 (menaquinone-7) | 90µg |  120 |

*µg RE = micrograms retinol equivalents
* NRV is the Nutrient Reference Value
✝ NRV not yet established
 
Other ingredients:
Coating: hydroxypropyl methylcellulose, hydroxypropyl cellulose, natural saffron and lemon, calcium carbonate, microcrystalline cellulose, stearic acid
Magnesium stearate
Microcrystalline cellulose
Silicon dioxide
Stearic acid
• 400mcg methylfolate, which is the useable and more readily available form of folate (when compared to folic acid).
• 1000 IU of vitamin D3
• 18mg Iron as iron bisglycinate which is a well-absorbed form of iron, and gentle on the digestive system compared to other forms of iron
• 290mcg iodine which is the recommended amount to support healthy pregnancy and breastfeeding
• 250mcg vitamin A in the form of beta-carotene, a form which is perfectly safe to take during pregnancy
Dose: One tablet to be taken daily, or as directed by your healthcare practitioner

If taking any kind of medication or have a medical condition, consult a healthcare practitioner before using this product. If taking anti-coagulants, consult a medical practitioner before using this product.